Welcome To Flat Stan First Aid
First Aid is a vital skill and as such is important to deliver training especially well to children. At Flat Stan First Aid® our aims are to allow children to interact, learn and have fun in a comfortable learning environment, at the same time benchmarking and meeting key stage and curricular objectives.
Flat Stans exclusive content is available through our Partner Portal for international schools, local schools and those home schooling or you can book for us to visit site and deliver one of our fun filled workshops. If you wish to find out more, book a visit or become a partner please get in touch by clicking here.
One day we noticed that there were lots of First Aid for grownups but little available for children. So we created – Flat Stan First Aid First Aid Workshops for children. The workshops have been designed specifically for children. They are enriching, engaging and fun. We know young children can make a difference when introduced to these essential life skills.The number of children who have been given the opportunity to be introduced to First Aid and Flat Stan across the UK is growing and we are working on abroad.
We are thrilled to announce that we received the Innovation Award at the Mid Yorkshire Chamber of Commerce Awards 2023. Our resources are dedicated to making life skills more accessible for children, parents, and schools. We strongly believe that simple and accessible education is key to making communities safer places to live. Our commitment to inclusivity is at the forefront of our achievements, making our work particularly relevant to SENCO and PSHE leads. #innovation #education #inclusivity #MidYorkshireChamberOfCommerceAwards #CPR #SENCO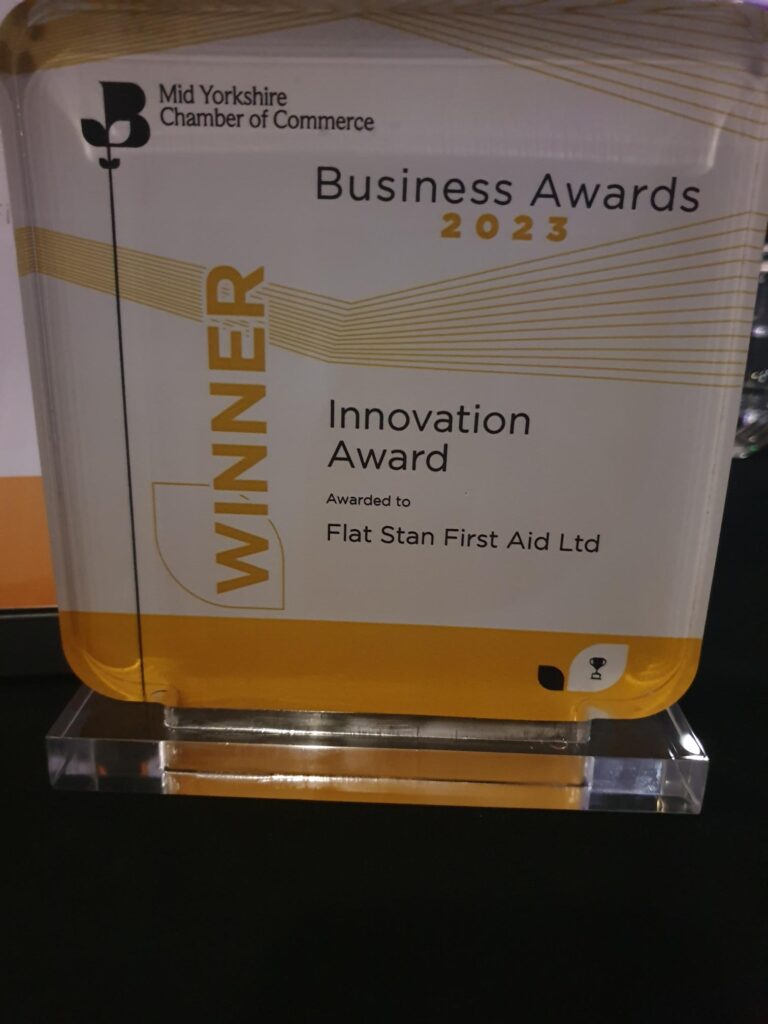 Another happy school...

"The Year 6 lesson was well-planned and delivered in a clear and
informative manner with lots of opportunities for children to participate interactively. He made sure that every child was included regardless of ability. The children were able to develop a clearer understanding of first aid procedures and protocol for emergency situations. The session was well delivered and engaging, sharing life skills with the children and preparing them for situations they may face in the future. It highlighted how important it is not to put yourself in harm's way and that first aid is not just about bandages but about helping people. The children thoroughly enjoyed the practical part of the session where they could put what they had learned into practice.
During the Year 5 lesson, the children were actively involved in hands-on activities. They learned important life-saving skills like CPR and how to handle common emergencies. The practical exercises allowed them to apply their knowledge and build confidence. It was amazing to see how engaged and enthusiastic they were throughout the session. They really soaked up the information and had a fantastic time while doing so."
–Tom Parker, Assistant Head and SENDCO at Brackenhill Primary School